Modern applications
by business experts
TRADE PROMOTION MANAGEMENT
Plan and follow the execution of promotions on the different sales channels like never before.
Join us, you are in good company
Having trouble assessing the impact of your promotions?

Manage smarter trade agreements and trade promotions. Optimize trade spending enabling an effective cost allocation. Analyze the profitability of products and customers with interactive reporting.
Maximise the return on investments, in any distribution channel.
Create and monitor integrated and data-driven customer plans, to transform a potential source of conflict into new growth opportunities for you and your large-scale retail customers.
Manage the effectiveness of commercial action on retail success through the creation and monitoring of framework and supplementary commercial agreements with each key customer.
Empower all the aspects relating to contracts, from definition and approval to calculation and accounting.
Plan promotions using a calendar layout, copying past scenarios or entering all necessary information.
Simulate scenarios and estimate volumes based on promotional tactics, period, customer and products to obtain important KPIs for the evaluation of the single promo. ​
Analyze promotion results in terms of ROI, margins and volumes thanks to the internal reporting system and dashboard integrated in the platform.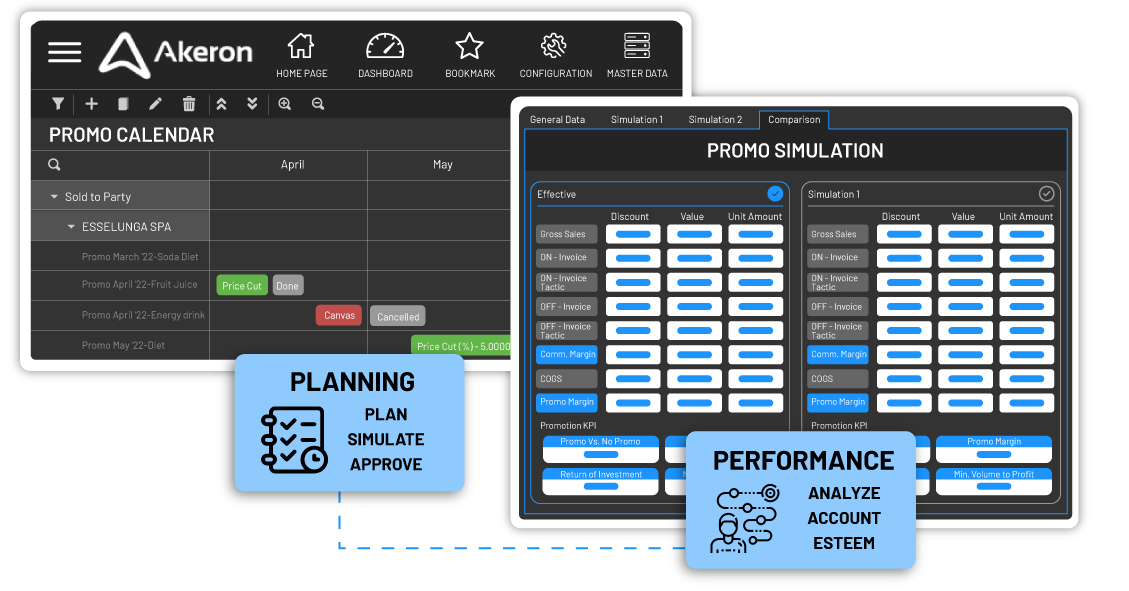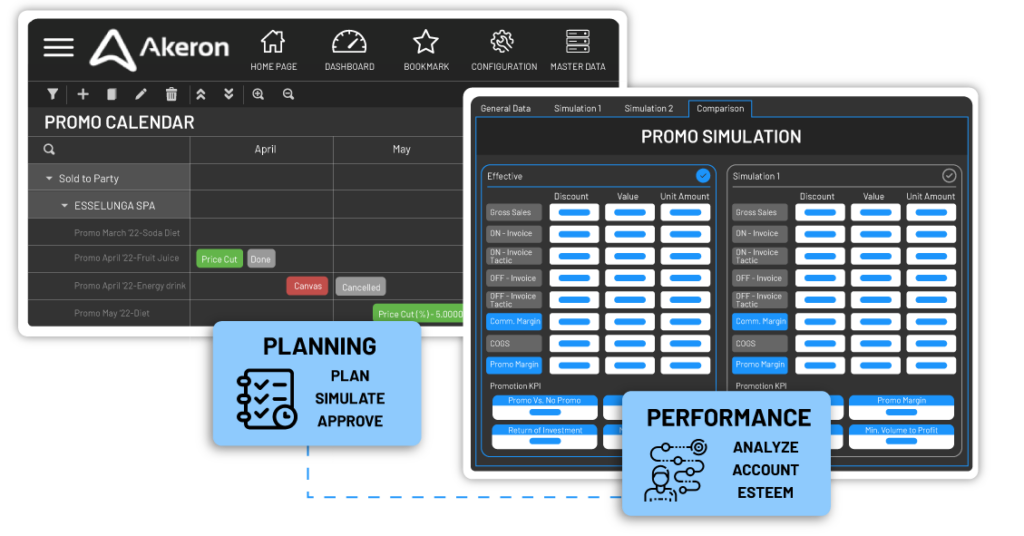 Get powerful analysis thanks to leading-edge reports on a unified data hub complete with all the necessary data sources.
A single reliable source of sales performance data, always available for all the teams involved. Flexible data collection models for sports or recurring performance analysis.
Dynamic and interactive dashboard and customizable operational and management reporting.
Faster Processes, Smarter Decisions
Gain a unified view across all channels and commercial levers available. Manage change by freeing yourself from unnecessary complexity and arduous manual processes.
Find out in our e-book the 5 key factors to get concrete results with trade promotions in CPG Industry
We help the whole team to overcome the most important challenges
We walk in your shoes and we solve your key challenges
Up to 8% margin increase on promotions. Increased production efficiency thanks to continuous forecasting of sales volumes
Identify the best mix of promotional investments to maximize profits and margins.
Improve the planning and the execution of promotional campaigns.
Optimize the "end to end" process to get a better customer support.
Monitor product, customer and promotion profitability.
Results that make the difference
Optimising trade promotion management: the success of Bolton Group
"…Today, thanks to Akeron, we have full control over all trade promotions
initiated by our different business units, in all the distribution channels. Over
time, a true partnership with Akeron has been created thanks to a reliable and
innovative software that meets the needs of our group worldwide…"
Sign up for a personal demo and see how Akeron can drive your business to be more efficient.